The Foundation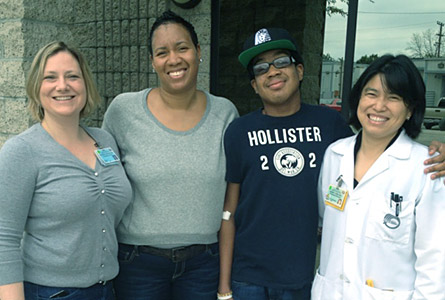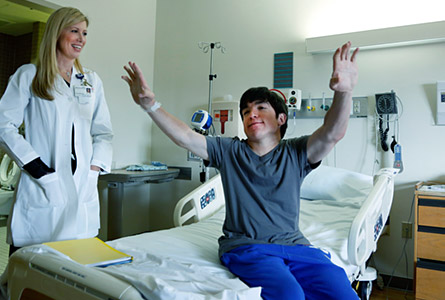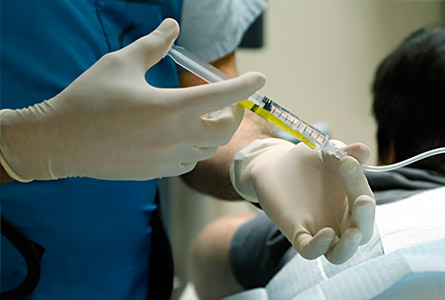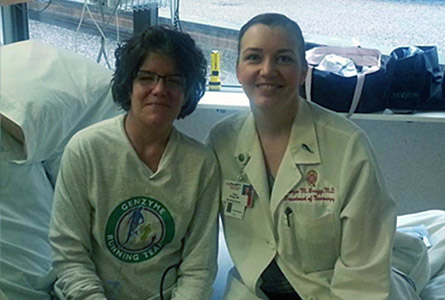 When Jeanne and Mark Dant were told their son Ryan had Mucopolysaccharidos 1 (MPS I) at age 3, it was a double dose of the worst news parents could ever expect to hear. The bad news was their son now had a life expectancy of 10 years and, during those years, they could expect to see their son's health gradually decline while pain gradually increased. The worse news was not only was there no cure, there was no one even looking for one because their son's disease was so rare, there could be no profitability in a cure even if it could be found. Their only options: accept the inevitable or fight the indomitable. They chose the latter and devised a two-pronged battle plan.
Knowing whatever treatment or research that might save Ryan's life would require funding, they instantly set forth fundraising. Their first effprt, a bake sale, netted $342 and the Ryan Foundation was born. With the help of friends, neighbors and local businesses, bake sales soon gave way to golf tournaments, fishing tournaments and raffles. With awareness of their mission growing through local and national media attention, the foundation received $200,000.00 from an individual donor.
Enter the second part of the plan: find any research capable of leading to even a treatment for MPS I. Tenacity, persistence and tireless medical sleuthing led the Dants to the UCLA laboratory of Dr. Emil Kakkis. Dr. Kakkis had the beginnings of a treatment but his research was stalled due to a lack of funding. With the help of the Ryan Foundation, Dr. Kakkis and his small team of dedicated researchers continued their steady, gradual movement toward the treatment those suffering from MPS 1 were so desperately seeking.
Ryan Dant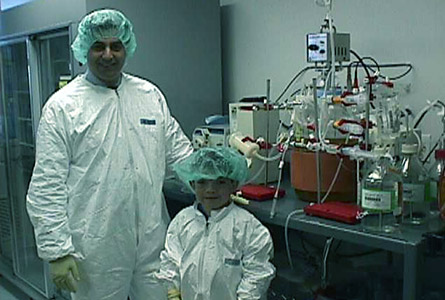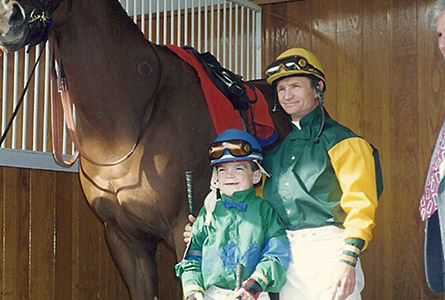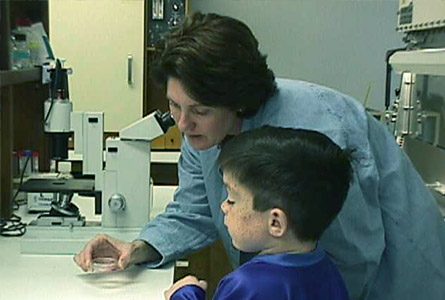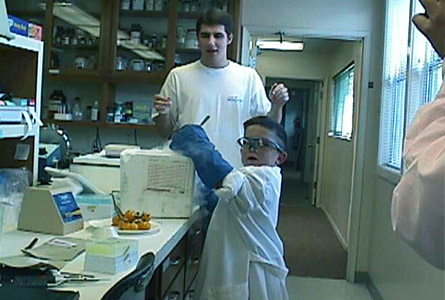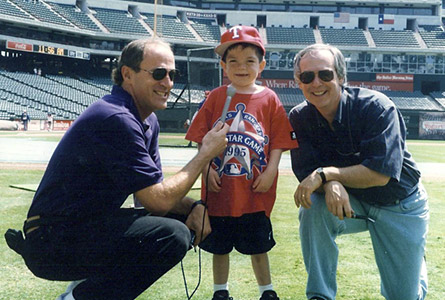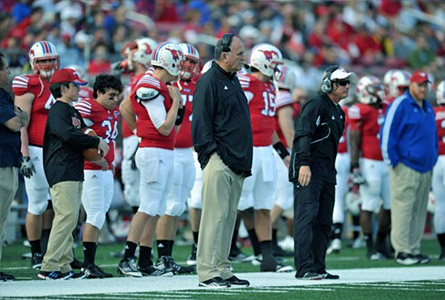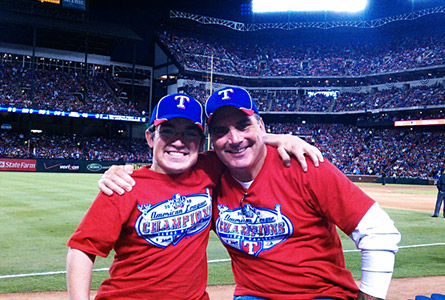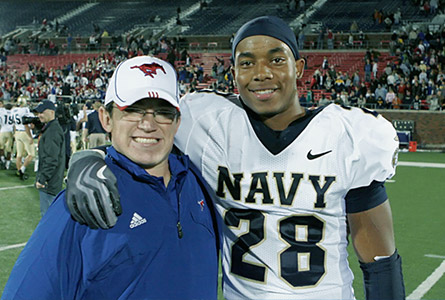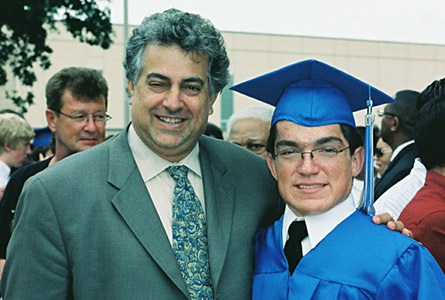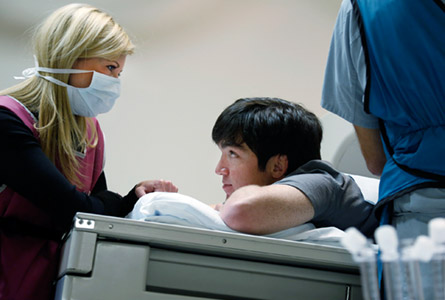 In 1991, words such as "athlete", "graduation" and "career" were removed from Ryan Dant's vocabulary. That was the year he was diagnosed with Mucopolysaccharidosis I (MPS I). Average lifespan of a child with MPS I: 10 years. Thanks to parents who refused to accept the terms of his predicament, the hard work friends, neighbors, and classmates put into the Foundation bearing his name, and a key partnership with an incredible team of scientists at UCLA's LA BioMed, Ryan's lifespan has now extended beyond 25 years full of achievements way above average.
Like any child, Ryan wanted to be the best at whatever sport or activity he participated in. But as the disease strengthened its grip on his body, those dreams were replaced by the desire to just be a normal kid. When his joints stiffened to the point it made sports impossible, his father would often take long detours around playgrounds to spare young Ryan the pain of watching his playmates on the fields without him. By age 9, Ryan had stopped talking about normal childhood dreams like attending high school, obtaining his driver's license, or even growing up. Ryan's body had begun to tell him what his future would hold.
Our Board
We are thankful for our Board members who choose to support and stand with us in the work that we are doing. For information about these individuals, hover over and click the photographs below.


Barney Adams
Barney Adams is an entrepreneur, the founder of Adams Golf, inventor of the Tight Lies fairway wood, holder of numerous patents on golf products, and author of The WOW Factor. Mr. Adams has been supporting the mission of the Ryan Foundation since its inception in 1992. His personal guidance and commitment to the Foundation has brought national awareness to the mission of finding treatment for MPS and orphan disease.

The account of his first meeting with Ryan Dant's father was read by millions in nationally renowned sports writer Dave Kindred's two feature Golf Digest articles titled, "The Power of Charity Golf" and "How Golf and Charity Came Together to Save a Life".


Greg and Jeannie Buchanan
Greg is currently CEO of Buffet Partners LP, a restaurant company, and has been in the restaurant business for 25 years. He was previously President of La Madeleine Bakery and Cafe and spent 11 years with TGI Friday's in several senior level positions including Chief Financial Officer and Senior Vice-President of business development. Greg currently serves on the Finance Council for several non-profit organizations, including Mary Immaculate Catholic Church and Bishop Dunne High School.

Jeannie began her career 30 years ago in the banking industry and has spent the last 20 years raising her 4 children. In addition, she has her own business, A New Leaf, that provides home and office organization and landscape design services. Jeannie has served as a volunteer over the years at Mary Immaculate School, Jesuit College Preparatory and Ursuline Academy.

Jeannie and Greg have been married for 29 years and have 4 children, Brad, Chris, Brian, and Mary. They currently reside in Coppell, Texas.


Mark and Jeanne Dant
A police officer for 30 plus years, Mark currently serves as the Assistant Chief of Police for the city of Carrollton, Texas. Jeanne has served as a Project Manager in the Information Technology field for nearly three decades at American Airlines, Electronic Data Systems (EDS) and at her current position as Project Manager in Applications Development with Santander Consumer USA in Dallas, Texas.

Mark and Jeanne founded the Ryan Foundation shortly after their only child, Ryan, was diagnosed with Mucopolysaccharidosis (MPS I). Mark has been the Volunteer Executive Director of the Ryan Foundation since its inception.

Mark and Jeanne have been friends since high school and married for 31 years. They currently reside in Carrollton, Texas.


Brian and Maggie DeLaney
Brian and Maggie started Consumer Credit Nationwide, a 501C3 non-profit credit counseling organization based in Davenport, Iowa 20 years ago. Brian is currently the CEO of Consumer Credit Nationwide and is a Certified Public Accountant. Maggie has started a new venture, Red Rover Children's Learning Center, where she is the Executive Director. In addition to the Ryan Foundation, Brian and Maggie volunteer for other non-profit organizations such as the Rotary Club and Gilda's Club.

Brian and Maggie have been volunteering with the Ryan Foundation since 1993. Brian and Maggie have been married for 26 years and have three adult children. They live in Bettendorf, Iowa.


James Jeter
James has been producing business and broadcast television for the past 33 years. For the past seven years, he has been the Production Manager of Broadcast Services at the American Airlines Center.

He has been producing "programs with a passion" for the Ryan Foundation as a volunteer since 1997. James has two children and lives in Coppell, Texas.


Danny and Chris Kottak
Danny has been an Account Manager for IBM in the DFW area for the last 15 years. He attended high school with the Dants in Louisville, Kentucky.

Chris was a flight attendant before becoming a stay-at-home mom. Chris works part time now handling billing for physician offices. Chris and Danny met at a Ryan Foundation event in 1998 when they started volunteering with the Ryan Foundation.

They have been married for 15 years. They have six children and reside in Coppell, TX.


Jerry and Tina Pomposelli
Jerry has been a police officer for over 30 years and currently serves as Investigator Supervisor for the Denton County District Attorney in Denton, Texas. He has served the community as a volunteer for CASA (Court Appointed Special Advocate) representing abused and neglected children.

Tina has served in a business management capacity in the telecommunication industry as well as her current position of Senior Manager of Customer Service for TDIndustries in Dallas, Texas. She serves as a volunteer coordinator for Visiting Nurse Association's Meals on Wheels program. Jerry and Tina have worked closely with the Ryan Foundation since its inception in 1992.

The Pomposelli's reside in Little Elm, Texas, have been married for 34 years and have three children who are also Ryan Foundation volunteers.


Scott and Susan Truxal
Scott spent 7 years in the United States Air Force as a pilot. For the last 26 years he has been employed by Delta Air Lines and has been a Delta captain for the last 16 years. Susan was a flight attendant for Delta from 1985-1999. She currently volunteers at Jesuit college Prep and Mary Immaculate School where she also substitute teaches. Scott and Susan began volunteering for the Ryan Foundation in 1997.

The Truxal's have been married for 20 years and have one child, their son Sam. They currently reside in Coppell, Texas.


David and Lisa Verret
David and Lisa are both graduates of University of North Texas where they met. David has been employed by IBM for over 30 years and has held various Business and Real Estate Operations positions.

Lisa, after a career in small business, retired to stay home and raise their family. Now that their children are grown, Lisa works as a research analyst. Both have been actively involved in Mary Immaculate School, the Ryan Foundation, and Backyard Mansions, an organization that builds children's playhouses for charitable causes. Since 1997, when the first playhouse was built for a Ryan Foundation Auction, the Verrets have assisted various scholarship, family service, and medical research organizations to raise over $225,000 thru playhouse raffles and auctions.

David and Lisa became involved in the Ryan Foundation in 1997. The Verret'shave been married for 28 years and have four children: Jody, Will, Libby and Annie. All are graduates of Texas Tech University except Annie who will graduate there in 2015. The Verrets have been residents of Coppell, Texas since 1985.


Ed and Pam Wenzel
Ed is Vice President, National Accounts - Institutional Funds Group, American Beacon Advisors. He is responsible for strategic relationship management for mutual fund products to national retirement plan platforms, national retirement and investment management consulting firms, large corporate plan sponsors, endowments, and foundations. Prior to that, he was with Mutual of America Life Insurance Company as Senior Vice President, Institutional Markets, Mutual of America Securities Corporation where he developed and expanded mutual fund product for Mutual of America. Ed is a member of various nonprofit organizations and currently serves on the National Easter Seals Board of Directors and the Ryan Foundation.

Pam has worked as Executive Assistant to the General Manager of the Dallas Stars Hockey Club for the last 13 years. Pam's prior jobs include the Texas Scottish Rite Hospital, where she was office manager of the Child Development Division and Immaculate Heart Academy in New Jersey where she managed the front office of the all-girls Catholic High School. Pam is a member of various non-profit organizations and currently serves on the board of the Ryan Foundation.

Ed and Pam have been married for 37 years and have a daughter, son-in-law and two grandchildren.